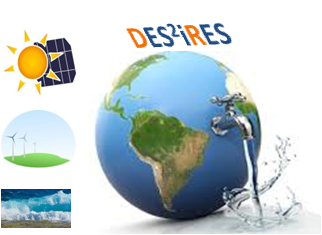 Start the design of an eco-friendly desalination plant power-supplied by Renewable Energy Sources, by using the DES²iRES platform which is available here:
http://147.27.31.219/gis_web_module/
Please send your questions, comments or suggestions about the operation of the DES2iRES platform to efkout@electronics.tuc.gr or atripol@mred.tuc.gr.
Data information:
The DES2iRES database contains modified Copernicus Climate Change Service Information (2018) data (ERA5 reanalysis dataset). Neither the European Commission nor ECMWF is responsible for any use that may be made of the Copernicus Information or Data the DES2iRES platform contains.
For the pilot study area in Crete, Greece, data from the network of ground meteorological stations operated by the Decentralized Administration of Crete and the Hellenic National Meteorological Service have been used.
For the pilot study are in Tunisia, we thank the National Institute of Meteorology (INM), the National Agency for Energy Conservation (ANME), the Center for Research and Water Technologies of Borj Cédria (enerMENA project) for their help and for the data they provided us for the realization of the DES2iRES platform.
Disclaimer:
DES2iRES and the participating organizations are not liable for any direct, indirect, consequential or incidental damages, or loss of data, profits or revenue, incurred by the access to, or use of, the DES2iRES platform and website.