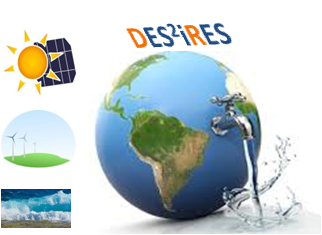 Halouani, N., Koutroulis, E., Partsinevelos, P., Tripolitsiotis, A., Hristopulos, D., & Monbet, V. (2017). DESiRES: A GIS-based platform for optimal design of desalination plants using renewable energy sources. 5th International Conference on Remote Sensing & Geoinformation of Environment-RSCy 2017. Paphos, Cyprus.
Monbet, V., Ailliot, P., & Koutroulis, E. (2018). A multivariate Markov Switching model with downscaling. 4th Conference on Stochastic Weather Generators (SWGEN) 2018. Boulder, Colorado, USA.
D. Hristopulos (2018). Spatiotemporal models inspired from statistical physics. In Workshop on Modèles spatio-temporels en météorologie et océanographie, Centre INRIA de Rennes (Campus de Beaulieu), Bretagne, France, November 2018. Organized by IRMAR, LMBA, INRIA. Available at: https://spatiotempmeteo.sciencesconf.org/program
Tripolitsiotis, A., Petrakis, G., Hristopulos, D., Halouani, N., Koutroulis, E., (2019). DESiRES: A web-GIS platform to support public authorities and investors in strategic planning of desalination plants powered by renewable energy sources. European Geophysical Union General Assembly, 7-12 April 2019, Vienna, Austria. Poster_EGU_April_2019_GP_at.