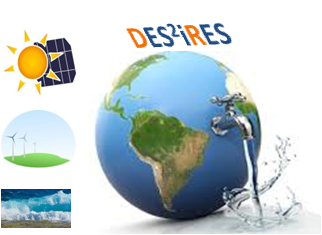 Hristopulos, D. T., & Agou, V. (2018). Stochastic Local Interaction Model for Spatial and Space-Time Data. 9th Workshop on Spatio-Temporal modelling – METMA 2018. Montpellier, France. Retrieved from http://metma2018.sfds.asso.fr/assets/Download/proceedingsMETMA9.pdf 
Koutroulis, E., Petrakis, G., Hristopulos, D. T., Tripolitsiotis, A., Halouani, N., Ben Naceur, A., & Partsinevelos, P. (2019). Geo-informatics for optimal design of desalination plants using Renewable Energy Sources: The DESiRES platform paradigm. In H. El-Askary, S. Lee, E. Heggy, B. Pradhan, H. El-Askary, S. Lee, E. Heggy, & B. Pradhan (Eds.), Advances in Remote Sensing and Geo Informatics Applications (pp. XXII, 382). Tunisia: Springer International Publishing. doi: 10.1007/978-3-030-01440-7
Tripolitsiotis, A., Petrakis, G., Hristopulos, D., Halouani, N., Koutroulis, E., (2019). DESiRES: A web-GIS platform to support public authorities and investors in strategic planning of desalination plants powered by renewable energy sources. Geophysical Research Abstracts, Vol.21, EGU2019-14356-1. Available online at: https://meetingorganizer.copernicus.org/EGU2019/EGU2019-14356-1.pdf
A. Malisovas and E. Koutroulis, "Design Optimization of RES-Based Desalination Systems Cooperating With Smart Grids," in IEEE Systems Journal, vol. 14, no. 4, pp. 4706-4717, Dec. 2020.
E. Koutroulis, G. Petrakis, V. Agou, A. Malisovas, D. Hristopulos, P. Partsinevelos, A. Tripolitsiotis, N. Halouani, P. Ailliot, M. Boutigny, V. Monbet, D. Allard, A. Cuzol, D. Kolokotsa, E. Varouchakis, K. Kokolakis, S. Mertikas, "Site selection and system sizing of desalination plants powered with Renewable Energy Sources based on a web-GIS platform", accepted for publication in International Journal of Energy Sector Management.